Enzymoplast submits evidence to the House of Commons Environmental Audit Committee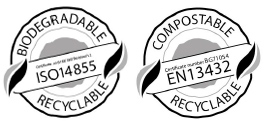 In light of the fierce debate surrounding the Governments recent announcement that a 5p levy will be charged from October 2015 in England on all single use PE carrier bags obtained from Retailers with over 250 employees, Enzymoplast has submitted evidence to the Environmental Audit Committee for its biodegradable and recyclable solution for plastic carrier bags. This coincides with the launch of the companies two new logo's for their Customers to use, which stresses that there is a choice in the market. Plastic carrier bags do not have to be either biodegradable or recyclable but can be both using Enzymoplast's solution. ISO14855 and EN13432 are the accepted industry standards for biodegradable and compostable plastic packaging.
One of the Governments proposals is that the levy will not apply to biodegradable carrier bags, which is a concern for the Recycling industry in the UK as they fear such materials may contaminate the recycling stream. Enzymoplast's technologically innovative biodegradable solution, which is based on an enzymatic reaction in which the enzymes remain inert until they come into contact with a microbial source, is recyclable with standard PE waste streams without contamination. Enzymoplast has recently been certified according to ASTM D 7209 – 2006, Standard Guide for Waste Reduction, Resource Recovery and Use of Recycled Polymeric Materials and Products.
Wayne Dobson, Sales and Marketing Director, states "Once reprocessed, the PE containing the enzyme pack will be diluted to such an extent that the enzymatic reaction simply will not start. The consequence of this is that the recyclate will retain all of the inherent mechanical properties of standard plastic recyclate. If the product containing Enzymoplast does not enter the recycling stream, then the material can be reintroduced into the carbon cycle, whatever the End of Life of the material".
For more information please contact AESL : info@enzymoplast.com
Evidence Link
http://www.parliament.uk/business/committees/committees-a-z/commons-select/environmental-audit-committee/inquiries/parliament-2010/plastic-bags/?type=Written#pnlPublicationFilter
spare a few minutes?
Watch our presentation to learn about our commitment to innovation and protecting the environment. We've also featured a short movie by Chris Jordan which shows the impact of plastic waste on wildlife.
facts
One of the most dramatic impacts is on marine life. About 100,000 whales, seals, turtles and other marine animals are killed by plastic bags each year worldwide, according to Planet Ark, an international environmental group.